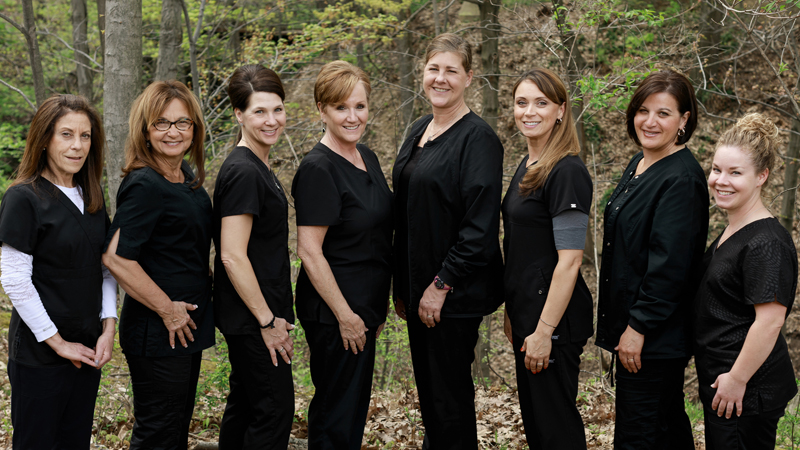 Our clinical staff is always eager to meet your dental needs.  With their extensive education and experience we are confident that they will work hard to give you the comfort and quality you desire.
All of our dental assistants have extended education and are either currently registered EFDA's or are in school to achieve EFDA certification.
What is an EFDA?  EFDA stands for Expanded Function Dental Auxiliary
Expanded function dental auxiliary (EFDA) are dental professionals that can perform all the same tasks as a dental assistant, but are authorized by the state of Ohio to perform other dental services.  Under the supervision of a licensed dentist, an EFDA is qualified to place restorations and sealants.
In order to achieve EFDA Licensure in Ohio, a dental assistant must first achieve admission into an EFDA program which requires that applicants show proof of acquiring their CDA (Certified Dental Assistant) license that is issued by the DANB–(Dental Assisting National Board), OHIO CDA the Ohio Certified Dental Assistant, or Ohio RDH (Registered Dental Hygienist) license.  Then the assistant must have completed an EFDA education or training course accredited by the Commission on Dental Accreditation of the American Dental Association or the higher learning commission of the North Central Association of Colleges and Schools and successfully passed the examination administered by the Commission on Dental Testing in Ohio or an examination accepted by the Ohio State Dental Board.  The dental assistant must hold Proof of current certification to perform basic life-support procedures certified by either the American Red Cross, the American Heart Association or the American Health and Safety Institute.
Once the EFDA Certification has been completed the assistant must perform expanded functions under the direct supervision of a licensed dentist in the state of Ohio.